Here are some ideas of how you can use a wrap for tandem wearing your twins:
When they are teeny, tiny, they may like to be wrapped up together in a single front carry. You can do a Front Wrap Cross Carry, Front Cross Carry, or Pocket Wrap Cross Carry (as in the video below) and tuck one babe under each cross.
Wearing one on the front and one on the back in one long woven wrap (do not try this with a stretchy wrap such as the Moby).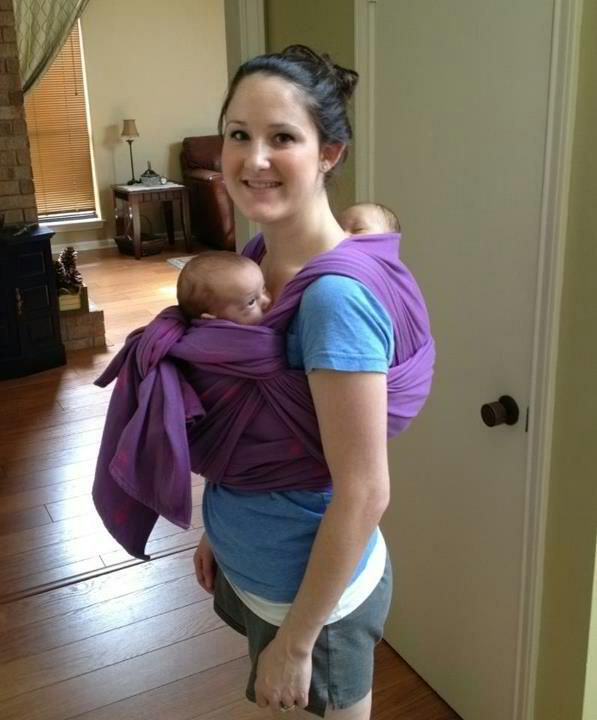 For those who want to tandem wear two babies of different sizes/ages, here's a great video showing a lady wearing a bigger baby on her back in a Rucksack tied Tibetan, and inserting a smaller baby into the Tibetan cross on the front:
You can wear them in two separate wraps. Some possibilities are:
One in a Front Cross Carry (a poppable carry so you can take the little one out if he or she needs to potty or be changed, then pop baby back in without retying) and the other in a rucksack carry on your back. The advantage of having the babies in two different wraps is that one can come out without disturbing the other.
Both on the front, one in a hip carry on your right hip, one in a separate wrap carry on your left hip.
Two front carries, side by side, with two wraps.
Or this cool combo where baby number one is in a back carry and baby number two is tied in a front carry through the straps of the back carry, using a short wrap:
When you are not wearing two, you will likely find many occasions to wear one twin while:
nursing the other
changing a diaper
pushing one in a shopping car
using a single stroller
For these times, use the instructional tutorials and videos at www.wrapyourbaby.com
And here are a couple more sites of interest about babywearing twins:
Tips and Tricks for Babywearing Twins