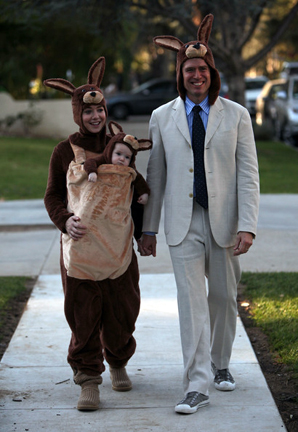 I love the idea of a tandem costume.  You know, you and your wrapped up baby (or toddler) are something together.  A Kangaroo and a joey (as sported by Alyson Hannigan in the above photo).  An owl in a tree.  A two-headed monster.
Whether you've got older kids to take trick-or-treating, or you're dressing up for a party, I want to see those tandem costumes!  Post your photo on the Wrap Your Baby Facebook page next week to join in.  We'll count up which photo gets the most "likes" and I'll send a warm fleece babywearing cover* to the lucky tandem pair!
But just for participating, winner or not, you will get 10% off a purchase from my store!  Just send me an email with a link to your photo on Facebook, and I'll send you the coupon code!
So, everyone who posts a picture gets 10% off, and one winning photo will get a free babywearing cover for winter!  It's a win-win-win situation!  I can't wait to see what you come up with!
*if the winner is outside the US, I will have to ask you to pay shipping–sorry!
Some costume brainstorming ideas from the community at large: