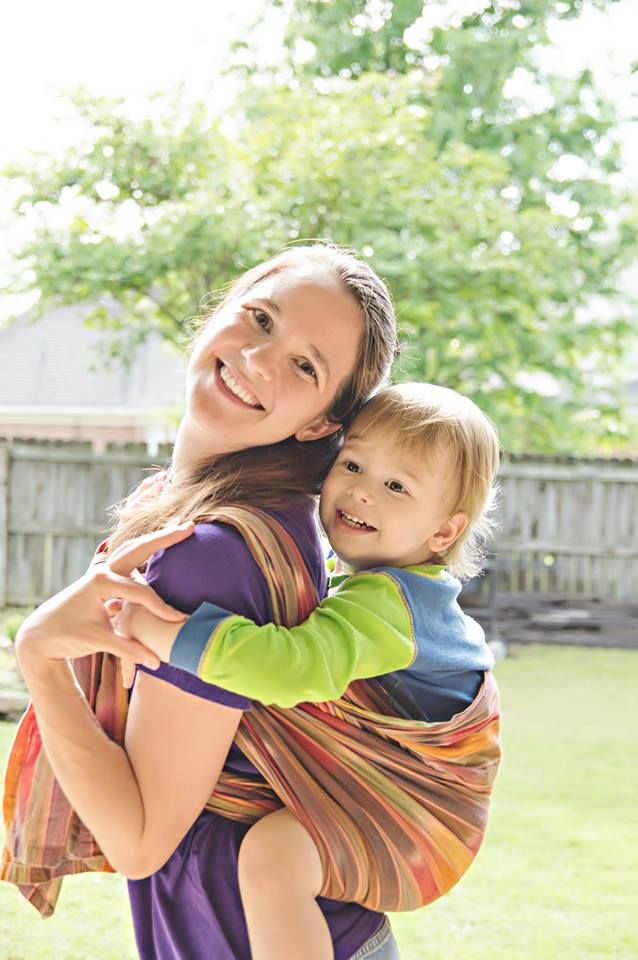 Yes, you can make your own wrap!
I don't have much experience of my own, but I collected some information on the subject to share for those who are looking into the possibility.
The fabric I see recommended most often for a DIY woven wrap project is Osnaburg.   I'm told that Osnaburg is almost always permanent press which is achieved through the use of formaldehyde.  Many people do not consider this dangerous for babies, but in case you want to avoid that, here is a link to a site that sells Osnaburg that is not PP.
Genna helpfully suggests, "Get an extra yard because it will shrink when you wash it the first time."  That's good to know up front, right?
Savannah says, "I found fabric.com osnaburg to be stiffer than stuff I got off of ebay."  Putting your fabric through the washing machine several times should soften it up, as well as shrinking it down to size so that you know how much to cut.
Leslee says, "I used osnaburg from walmart and cut it about 32″ wide to allow for shrinking from dyeing and washing. I used tulip dyes (contacted company for safety) then sew it all around and I ironed on a middle marker."
Some other fabric options are monk's cloth and a 100% cotton jacquard weave tablecloth (both suggested by Sarah).  Prasti says, "I used cotton muslin for mine…and it has lasted through all 4 kids . I like it because the fabric is not too heavy or too light, and it's usually priced at 4.99/yard so it's pretty affordable."
Sharon made her own DIY cotton gauze wrap. "I'd only recommend this for multilayer carries (FWCC and DH as examples) as the fabric is really thin. I also made this wrap much wider than a typical wrap (35 inches wide) to provide more support."  As a note, the gauze you find in a fabric store is likely to be thinner than the bottom-weight gauze used in making Wrapsody Breeze wraps, which means your gauze wrap may be a little diggier and flimsier, best used, as Sharon says, in multi layer carries.  April adds, "I used 100% cotton gauze to make a wrap I didn't mind using in the pool."
If you do use your wrap for swimming, bear in mind that either chlorine or saltwater can begin to wear on the material after a while so keep an eye on the integrity of the fabric to make sure it is strong and safe each time you put it on.
And what about size?
The first rule to keep in mind is that it's a lot easier to shorten it than lengthen it!  Start out long, wear it a bit, and then see how much extra you can cut off and still be able to do your favorite carries.
Most commercially bought stretchy wraps (like a Moby) are 5.5 meters.  This is one size fits all, and if you are making your own and are not plus sized, I would definitely suggest making it smaller.  However, you can start out long, try some carries, and then figure out exactly how much you want to cut off of each tail.
I don't think stretchy carries should take any more fabric than carries in a woven, so you could probably use the below sizing for either type.  If your wrap is long, though, you'll end up wrapping the excess around you and that gets warm in the Summer!
Woven wraps are generally sized.  4.6 meters fit most moms.  If you are particularly petite (under 130 lbs, and not too tall) you might be able to do all of the carries with a 4.2 meter wrap.  Some very small moms use 3.7 meters.  Again, if you're making your own you can start using it and then shorten it to the perfect length.  If you are a larger mom, you might want to go with a large wrap which is 5.0 – 5.2 meters.  5.5 meters would be considered extra large.
I have a lot of sizing advice available on my website including different carries that you can do with different woven wrap lengths (note, these carries are only for woven wraps and may not be safe with stretchy wraps): https://wrapyourbaby.com/wovenwraplength.html
And here are pictures of differently sized moms doing different carries in different wrap lengths:  https://wrapyourbaby.com/wrapsizes.html