A recent discussion on the Babywearing International Facebook page prompted this post.  Because this is something babywearers hear a lot.
By wearing your baby in public, we invite others to open up about their babywearing experiences.
middle-aged lady in the thrift store, "All they had when mine were babies was the Snugli!"
excited Asian man: "That's how mothers carry their babies in my country!"
checkout clerk at the supermarket: "I had one of those when my daughter was a baby!"
mom with arms full of baby at the library: "I got one of those for my baby shower but I couldn't figure out how to use it!"
African grandmother: "I haven't seen that since I was a little girl!"
mother with a stroller, perhaps sadly or defensively: "I have one of those but my baby hates it."
We all know that different things work for different families.  The reason why this statement bears further looking into is because many babies who don't like the sling, really do like it once the problem is found.
How can you respond to a parent who claims that their baby hates being wrapped up?
First, be willing to accept that it is true.
Second, be interested enough to discover if a change might be all that is needed to lead this parent and child to a happy babywearing relationship.  You might end up with a friend for life!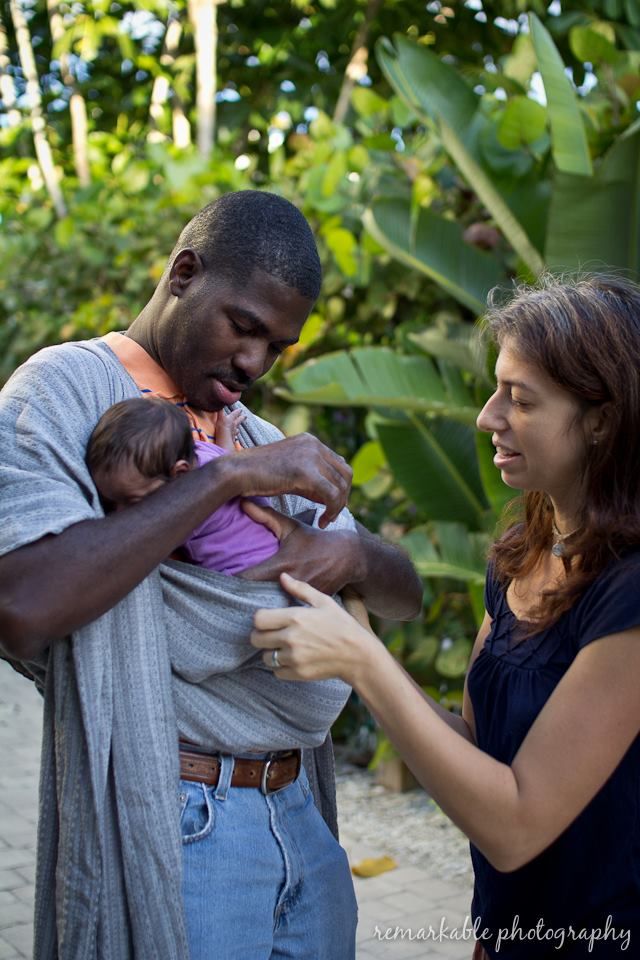 Many babies "don't like being worn" when it is new to them, and when they can tell it is new to their mommy, who is putting out uncertain vibes all over the place.  Many babies "don't like being wrapped up" when it takes too long to wrap them up, and the process is too fiddly, as is often the case when a mother is learning the art.
This mama may benefit from having your help to wrap her and her baby up more quickly, postponing the learning curve until baby is more familiar with the wrap.  She may benefit from practicing on teddy bears for a while so that she can learn how do the motions smoothly, quickly and confidently so that it does not try her baby's patience when she next puts him in the wrap.
Many babies "don't like the sling" when they have not given it a chance on a good day, when they are dry, and clean, and rested, and fed, and cuddly.
Simply suggesting that the mamma try wrapping up only when baby is in a cheerful mood could change the course of their babywearing adventure.  Assure her that once they are both accustomed to wrapping, it will be a life saver during the tired and cranky times, too!
And many, many babies "hate being worn" when the wrap or carrier is too loose, or not adjust quite comfortably enough by a new mom.
For any of these babies (and their parents), a little help goes a long way.  Having a friend tweak the carrier (snug this up, pull this down and that up, tilt baby this way…) could result almost instantly in a cozy, snoozing baby and an amazed and happy mamma.
Many babies "hate to get wrapped up" because they dislike the process of getting into the carrier…but are happy once it is all done and they are comfortable.
Tell this mama to go for a walk immediately upon tying the knot.  A walk is best because you have the benefit both of the motion of walking, and the distraction of scenery.  Babies soon find that the wrap means they get to explore the world comfortably from a really good vantage.  But if there's nowhere to walk: sway, dance, start moving.  Housework works really well, too.   Baby will likely come to anticipate the fun part of babywearing, and become patient with the process (and, of course, mama will get faster and faster at it the more she does it).
Babies, like the rest of us, can be very particular about details that can be difficult for us to predict given the language barrier.  One baby doesn't like pressure on his tummy; another baby wants to be able to kick her feet; the next baby doesn't like feeling constrained; and a fourth baby wants to face the world.
Ask the parent if they'd like your help to try out some different positions, or different carriers, to see if there is one that baby will be happy with.
One thing I love about woven wraps is that they offer the most versatility for working with an individual baby's needs.  A mother may need to baby her injured shoulder, or is uncomfortable with a knot digging into her chest, and wrapping gives her the options to accommodate her particular needs.  So wrapping can also accommodate baby's needs.  But in this case you may need to try a few different things to find out what the objection is, and what position will find favor with the little one.
Many babies prefer being held upright rather than in a cradle position, and upright carries are recommended from birth as a better position for novice babywearers to keep an infant's airway clear.  If mama has been working a cradle carry, show her how to wear baby upright.
Some babies don't like having their feet wrapped in the carrier, and there is no need to tuck a baby's legs into the carry, no matter how young.  Help the mama find a comfortable position for baby's legs with knees froggied higher than baby's bottom, but still free to hang down.  Make sure baby's legs are not spread uncomfortably to straddle mama, but rather bend up in front of baby between mother and baby.
Some babies will be much happier if you wrap with one or both shoulders and arms outside the wrap.  They feel less constrained.  These babies might be the one who do not appreciate being swaddled (and might well want their legs out, too, as mentioned above).  If baby needs head support, one side of the wrap can be pulled over arm, shoulder and the back of the head (see photo below), while baby's face is directed toward the more open side, where his or her other arm can be out.  This also allows for more of a view.
Some babies want to be able to see the world–not be tucked in against a parent's chest.  You can try wrapping one or both of baby's arms outside the wrap to give them a better view.  You can position baby sideways in the wrap, or wear baby in a high back carry that allows a view over mama's shoulder.  You can try a burp hold with baby high up on mama's shoulder looking over her shoulder behind her.  You can use a hip carry once baby has sufficient head control.
A baby with reflux may do well in a tummy to tummy position, while another reflux baby may hate any pressure on his or her tummy and do better in a sideways position.
If your baby hates babywearing, you may be able to solve it and change that.  And even if you cannot solve it, know that everything changes with babies.  Often.  Try again every couple of weeks.  It may suddenly click for you both, and become a valuable parenting tool from which you both derive a lot of enjoyment!
Babywearing groups are great resources for a parent who would like to wear a baby but has a baby that hates to be worn.  Your local babywearing group will usually be full of people who have a lot of babywearing experience and different babywearing experiences that they can share with you.  They are part of the group because they really want to help make it work for you.  Many groups have a lending library so that you can borrow and try out a different carrier, and if they do not, you may find group members who will lend you one of their own carriers to try.