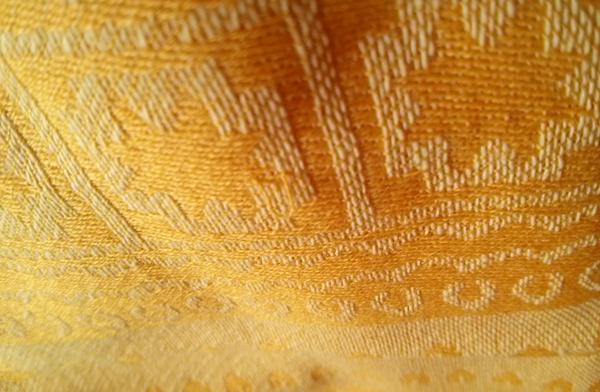 A guide to the differences between different kinds of fibers that are used in weaving wraps by  Marcia Stewart, the artist/weaver at Golden Thread Mistress:
*Disclaimer from Marcia: this is all from my experience and you may find things to be different. Hope you enjoy the read!*
Cotton:
Many wraps are woven with 100% cotton. All cotton is easy to care for (machine wash, tumble dry low), resilient, and pretty worry-free. Wraps that contain other fibers usually are primarily cotton, with a smaller percentage of the featured fiber.
Some people move to stiffer fibers when their babies get heavier, but I have found cotton to be just as supportive as a hemp or linen blend, if it is woven densely. Thicker all-cotton wraps are excellent for toddlers. Thinner or less densely woven cotton wraps can be saggy, and can require more precise wrapping to be comfortable with heavier babies. All of this can depend on wrapping preferences. [note from Diana at WYB: Storchenweige is an example of a very supportive all-cotton wrap with a dense weave that is great for toddlers and older kids.]

Linen:
This is often recommended as a fiber choice for heavier babies. Linen is also popular in the summer because it is known to be more breathable. Wraps that are 100% linen in plainweave have very little cush because of the flatness of the weave. A linen wrap that has more texture to the weave may have a little more cushion on the shoulders. The fiber itself has very little stretch, so carries in 100% linen tend to be solid and don't budge.
Sometimes linen blends can be known as "ropey" because they can have less cush than cotton does. So much of this ropey feeling is contributed to by the weave, and also how broken in the linen is. More wear makes the linen moldable and you may find that a linen wrap you didn't like when it was brand new wraps beautifully with time and use.
Hemp:
Hemp is very similar to linen, but some people find it to be less breathable of a fiber. I personally haven't found that; thick hemp wraps that are very dense may have contributed to the impression. Hemp combined with cotton can make a wonderful wrap. Hemp provides lots of support for heavier babies without the bulk that may be necessary for an all-cotton wrap. However, hemp is also less stretchy and yielding than cotton, so it may not have as much bounce. People who prefer their carries not to budge tend to like hemp.
Hemp can be washed in the washing machine, even on hot. It's a tough fiber.
Silk:
Delicate silk is sought after for small babies. Silk blends can be supportive enough for heavier babies, but silk wraps are often thinner and potentially less supportive. Silk itself is a very strong fiber, but again, the strength of silk in the fabric depends on the size of the silk yarn and the weave of the fabric. The softness and sheen of silk is so beautiful. Gorgeous silk wraps are luxurious.
Silk requires more delicate laundering and must be air-dried to maintain fiber integrity. Silk is also more expensive than other fibers.
Wool:
Autumn and winter months call for wool wraps! Wool blends are snuggly and cozy in cold weather, but wool is a very breathable fiber. It can be worn comfortably even in summer because of the way air moves easily though it. Wool has an amazing bounce and usually makes wraps very cushy and comfortable.
Wool can require more delicate care to avoid felting the fibers. Handwashing (either actually by hand or in a machine on the handwash setting) is the best method to prevent felting, and it is important to avoid extreme agitation or temperature changes during the wash. Then, wool must be air-dried.

When purchasing a used wool wrap, it is wise to ask for the width measurement of the wrap because felted wraps measure narrower than their unfelted counterparts.
Alpaca, cashmere, and mohair are all similar to wool in wrapping qualities and care.
Bamboo:
The bamboo I have wrapped with has been very soft and comfortable. Bamboo is known to shrink so a cold, hand wash is often recommended; followed by air drying. If you prefer to machine wash, you can purchase your wrap in a size longer than you intend and then shrinkage will not matter as much.